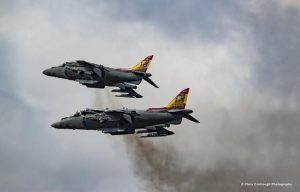 WOW, that has come around quick. 3 years since the last one due to COVID and all the restrictions we will soon be on our way to Fairford and RIAT for a week of fun and aircraft.
This is the biggest air show in the UK and is another I volunteer and work at. It has aircraft from around the world attending, not just flying but also on static display, with the chance to meet the aircrews and have photo's taken with them. It also means I will see friends that I have not seen for 3 years, enjoying a cold beer and fun with them. Seeing the team I work with and again having fun with them while still enjoying my photography hobby, yes if previous years are anything to go on I will have somewhere in the region of 2000+ images to sift through and choose my favourites (they will appear in the gallery in the week following).
Most days are almost sold out so get in quick if you think you would like to attend this event, that's how I started by visiting the show and then volunteering.