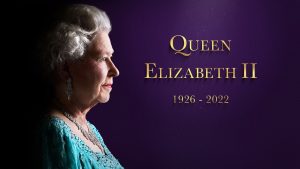 Today we here in the UK laid to rest our Queen, Elizabeth II. A sad day and a day of mourning for the whole country. I for one have been a supporter of the royal family and will do so for the remainder of my life.
As a radio amateur I have been honoured to be allowed to use the "Q" as a secondary letter to my prefix and call, GQ1VDP, to celebrate her majesties Diamond and Platinum (60 and 70 years) jubilees but could not bring myself to use it on such a sad occasion. I am also proud watching the TV coverage of the funeral and all the pageantry and ceremony that goes with a state funeral, and think we Brits certainly know how to do it with style. I am also proud of all the service men and women who have taken part in the whole event over the past 10 days since her death.
We now need to look forward and to the reign of our new King, King Charles III. I will be on air using the special prefix, I am sure we will be granted it, upon the occasion of his coronation some time in 2023 with a special QSL card made to celebrate the occasion (watch this space).
For now RIP ma'am, God Save the King.
(Image taken from SKY TV, with gracious thanks)