Today. 8th September 2022, we have received the sad news that our monarch Queen Elizabeth II has passed away. She served with grace, humility, and dignity. Carrying out her duties right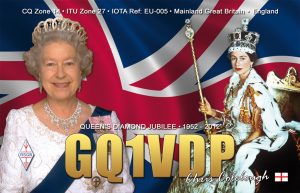 through to the last days, meeting and instating our new prime minister just 48 hours earlier. She was our Queen for 70 years, celebrating her platinum jubilee this year. But it was 10 years ago I activated a special call GQ1VDP to celebrate the diamond jubilee and had this special card printed to remember the occasion, again I operated as GQ1VDP this year also to celebrate the platinum jubilee.
We here in the UK are saddened by the news and will miss her, Rest In Peace your majesty.
With this in mind we now have a new king, the Queens eldest son Charles.
Long live King Charles III