As can be seen from my photo's and looking at the website I am an aircraft geek. So this interested me today (January 22nd 2023). This is the aircraft that has opened up the world for passenger flights and the development of bigger, safer, aircraft.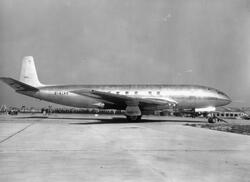 On Tuesday 22nd January 1952, the De Havilland Comet 1, the world's first jet airliner gains its certificate of airworthiness. The Comet entered service on 2nd May 1952 with British Overseas Airways Corporation (BOAC). However, within a year of entering service, a number of aircraft were lost to accidents. These were eventually traced to metal fatigue in the airframe. Although the aircraft was redesigned, its commercial sales suffered somewhat and only 114 examples were built.
BOAC ceased operations with the type in 1965, although many airframes were operated successfully by Dan Air for many years to come. The last flight by a Comet was by an RAF Comet C4, XS235 (Canopus) in March 1997. A number of surviving Comets are preserved in museums, including 'Canopus' which is kept in ground running and taxiing condition at Bruntingthorpe in Leicestershire.