Throughout my amateur radio life, and especially in the last 18 years, I have always wanted to visit the big show in Friedrichshafen, Germany. Well 3 years ago after the 2019 show I decided to book and go to the 2020 show with my mate Charles (M0OXO), Tim (M0URX), and others who we know from around the world. But sadly in March 2020 the whole world shut down as we know and the plans were kyboshed. Sadly Tim cannot make it this year, but we hope he will in the future.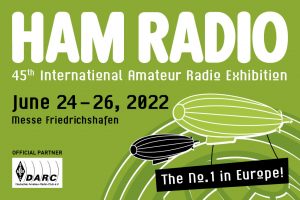 Two years on and we are finally getting to go. So now the countdown begins. A long weekend in Germany with other like minded people from around the world, as well as a show with all the latest amateur radio equipment to drool over and covet. Not only this but good food, drink, and laughs with friends who I have only ever met on air previously. Hopefully this will be the first of many.
Not just the show but the journey will be fun. Starting with Charles picking me up in his car to go to London Heathrow. Overnight there for an early flight to Zurich, Switzerland. Then from Zurich a train to Romanshorn, on the Swiss side of Lake Constance, to catch a ferry across to Friedrichshafen. Ending in a taxi ride to the hotel. I guess I will have to make sure all my camera batteries are charged.